PremiumTower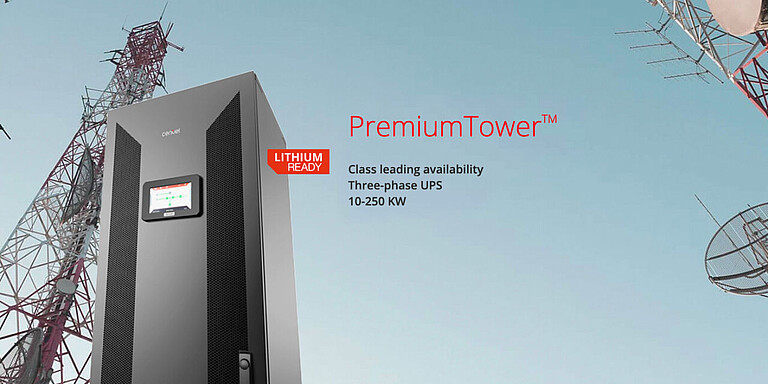 HIGHLY SCALABLE, UNBEATABLE EFFICIENCY AND COMPACT DESIGN
From 10 to 250 kW, PremiumTower™ is a Swiss made three-phase, online double-conversion Uninterruptible Power Supply.
Configurable as a standalone UPS or as a parallel multi-cabinet system, PremiumTower provides the ultimate flexibility for future growth.
PremiumTower offers scalability of up to 7.5 MW and delivers unbeatable energy efficiency in a robust and compact design. The flexibility in the number of battery blocks (20 to 50), eliminates the need to oversize the batteries and allows system designers to optimize cost versus autonomy time.
Internal battery options, or matching battery cabinets, avoid complex installations and make PremiumTower the best solution for applications where power performance, available space, and flexibility are key parameters.
Benefits
Unbeatable efficiency 96.6% (VFI)

Increased nominal rating (kW = KVA)

Near unit input power factor at full or partial loads

Compact mechanics with only 0.36 m2 for 120 kW

Ease of service with front access only

5 times higher charging current than typical stand alone UPS