EC Tower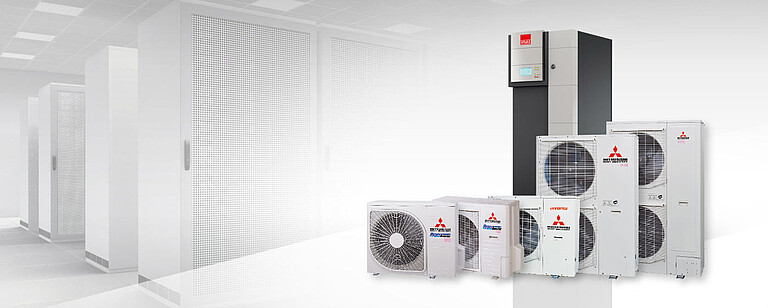 The split system for reliable and efficient cooling equipment and server rooms.
If you need precise, reliable and cost effective air conditioning for small equipment and server rooms, the EC Tower is an energy efficient and long-lasting series that fits the bill. These units cool more efficiently, more reliably and more sustainably than conventional comfort air conditioning systems. They occupy little floor space, and their compact size means they can be integrated in existing server rooms without problem. These units are a combination of quality of both Mitsubishi Heavy Industries and STULZ.
>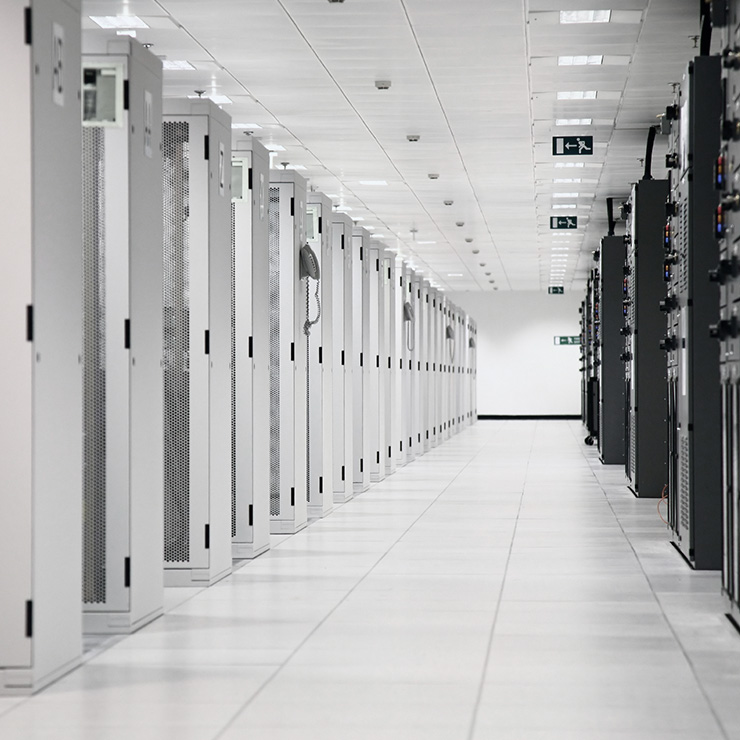 >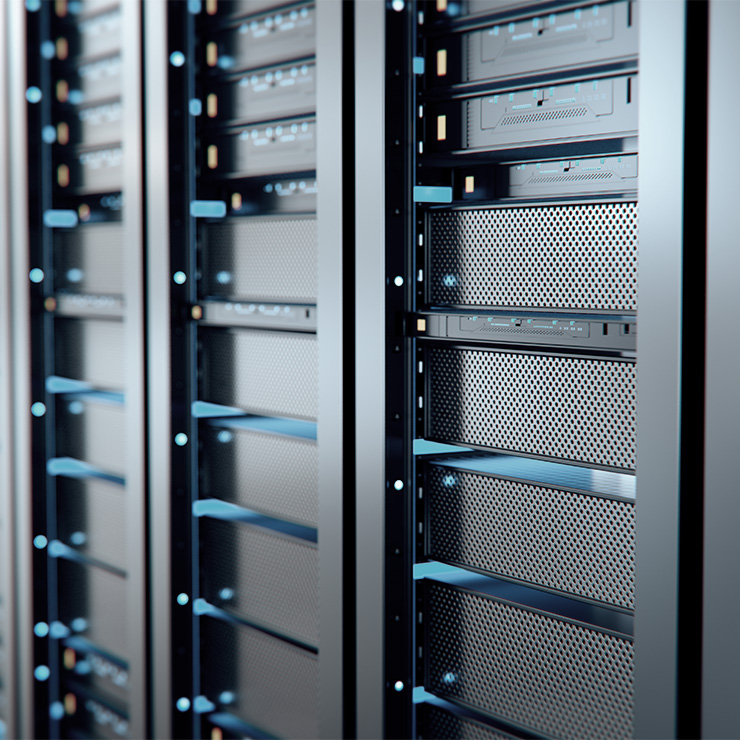 >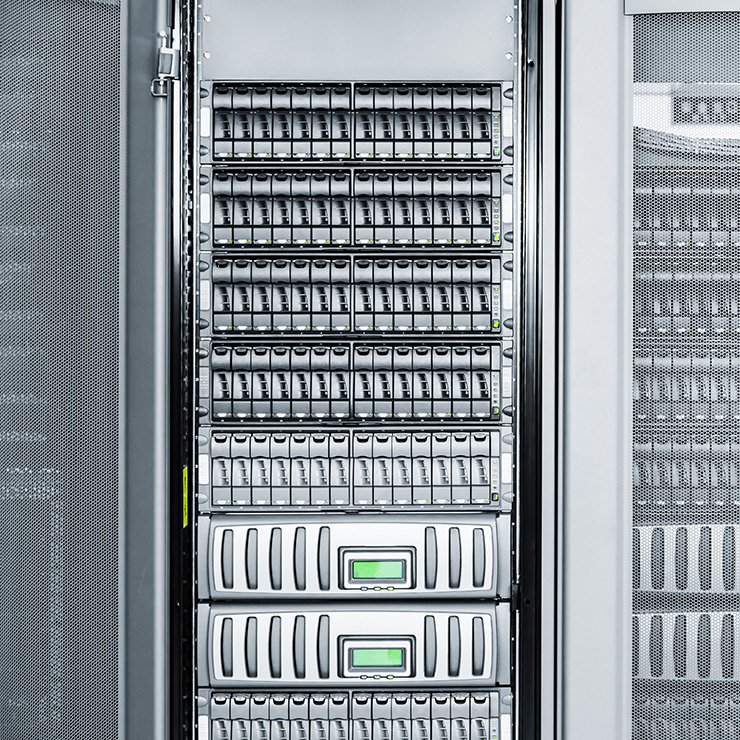 >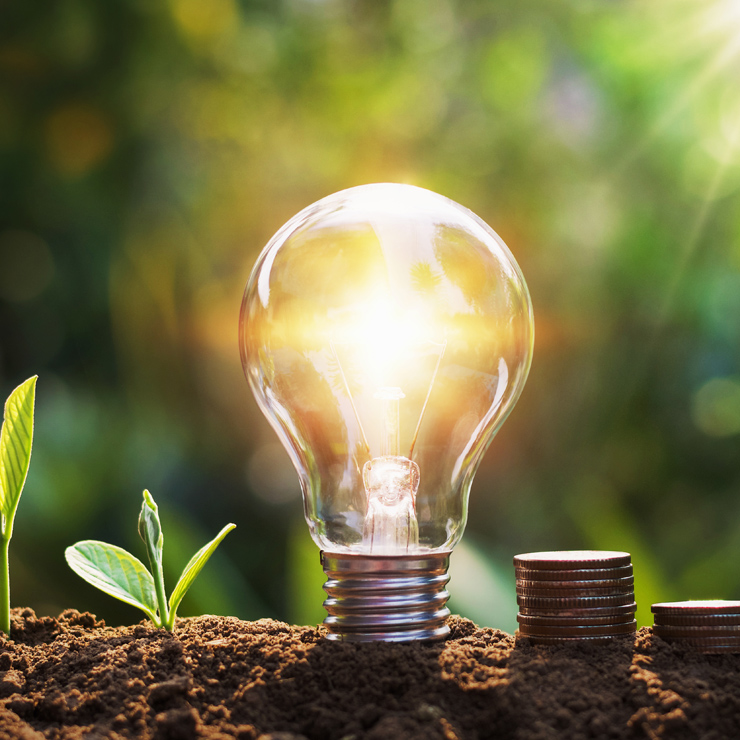 >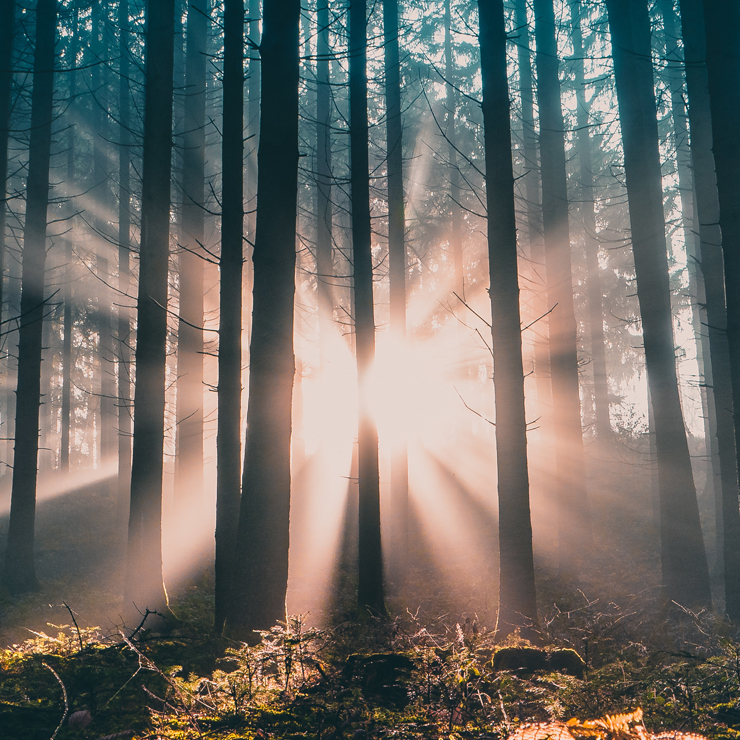 Product Overview
At a glance
Benefits
Features
Technical Data
he comfort air conditioning is designed in such a way that internal humidification is also taken into account. In order to create a pleasant climate for people, a room air conditioner therefore uses up to 40 % of its cooling capacity for dehumidification. In a technical room this continuous dehumidification is counterproductive.

The EC Tower is specially designed for rooms with comparatively high thermal loads such as equipment and server rooms. In addition, the EC-Tower does not dehumidify continuously but has a sensitive cooling capacity of over 90%. You benefit from greater efficiency and higher cooling performance, lower operating costs and, last but not least, greater reliability.

The EC Tower has a critical advantage over other solutions for this type of use: the three unit sizes are each available as standard with an optional accessory, such as a raised floor stand or duct connection adapter, which can be ordered off the shelf at any time at short notice. Long delivery times are therefore a thing of the past.
Specially designed for heat loads in equipment and server rooms
 
Precise regulation of room temperature and air humidity
 
Cooling capacity from 5 to 52 kW
 
Available in 2 different sizes
 
Available as Downflow and Upflow version
Fast availability and delivery
 
Easy integration and installation
 
Maximum cooling capacity with a minimal footprint
 
High operational reliability in continuous operation 24/7, 365 days a year
 
EC fans for maximum energy efficiency
Split system for discharging high heat loads
Optimized for equipment rooms: one system for cooling, humidifying and dehumidifying
Dynamic output adjustment with inverter-controlled outdoor units from our premium partner
The outdoor unit and air conditioning cabinet can be up to 100 m apart (dependent on type)
The outdoor unit and air conditioning cabinet can have a height difference of up to 30m (dependent on type)
Special equipment room control system integrated
Cascading and sequencing possible as standard
Energy-saving, high-precision EC fan included as standard
Standard unit includes numerous accessories, e.g. switch gear cabinet socket, status and error messages, emergency fire contact, electric heater, steam humidifier, repair switch and G4 air filter
Fast delivery times, simple and flexible installation, ready for operation immediately
Extensive range of options available
Technical data can be found in the download section below.
Need more information
Download all the relevant material for the EC Tower
All details concerning the EC Tower
The EC Tower formula

Extra sensible cooling capacity
Sensible cooling capacity lowers the temperature, while latent capacity dehumidifies the air. Comfort air conditioning units use up to 40 % of their cooling capacity to dehumidify the air, while the EC Tower generates between 90 and 100 % of sensible cooling capacity.
1Latent cooling = cooling energy for dehumidification
2Sensible cooling = cooling energy purely for lowering the temperature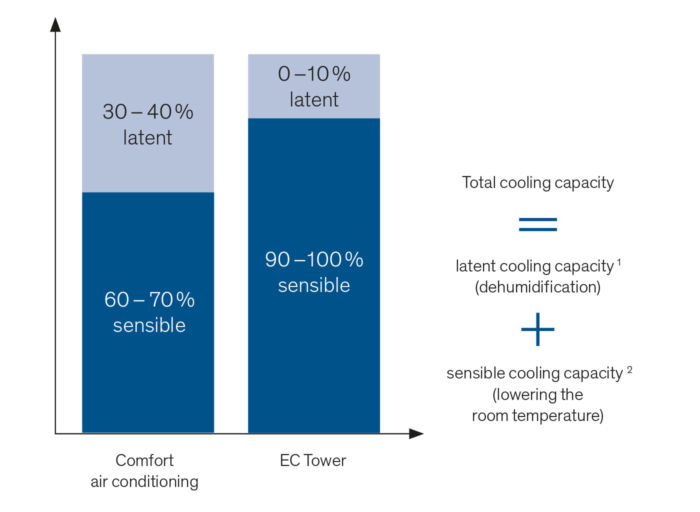 Optimum air distribution
The EC Tower incorporates a modern, energysaving EC fan, which achieves more than double the airflow rate of a comfort air conditioning unit and therefore prevents the formation of hot spots. The latest generation of fans reduce the noise level by 2 to 3 db(A), ensuring even lower operating costs. Upflow and downflow versions are available, suitable for use with raised floors and intermediate ceilings, ensuring optimum air distribution for every type of use.
Controlled Room Humidity
Comfort air conditioning units can "only" cool, heat and provide unregulated dehumidification, the EC Tower contains an air humidifier as standard. The resulting demand-based, control and precise humidification and dehumidification (tolerance +/- 5 % RH) keeps equipment and server rooms at the optimum climate. Preventing the buildup of static, and ensuring the cooling process maintains its constant high efficiency.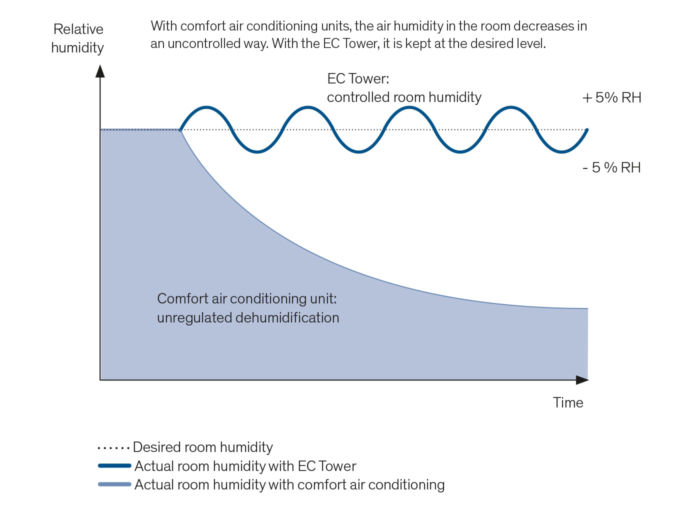 Low operating costs
Comparison of operating costs between EC Tower and comfort air conditioning unit

Example: required sensible cooling capacity 6.0 kW
 
EC Tower
Comfort
Comfort

Type
 
ECD 91/
FDC 71 VNX
FDE VG/
FDC 71 VNX
2x FDE 50 VG/
FDC 100 VS
Overall nominal cooling capacity at 24 °C/50 % indoors

7.7 kW
 
6.8 kW
9.5 kW
Total nominal cooling capacity, available

7.2 kW
 
6.7 kW
9.4 kW
of which sensible cooling capacity

6.8 kW
 
5.3 kW
7.1 kW
of which latent cooling capacity

0.4 kW
 
1.4 kW
2.3 kW
with a nominal air output

2,500 m³/h
 
960 m³/h
1,200 m³/h
Supply air temperature

20.0 °C
 
15.9 °C
15.3 °C
Humidifying capacity required by cooling process

0.59 kg/h
 
2.05 kg/h
3.31 kg/h
Electricity consumption of humidification per year
(6,362 equivalent full load hours)

2,807 kWh/year
 
9,781 kWh/year
15,788 kWh/year
Mean electricity consumption (outdoor unit/indoor unit/total)

2.26/0.45/2.71 kW
 
2.03/0.08/2.11 kW
3.0/0.12/3.12 kW
Electricity consumption for cooling per year without
humidification (6,362 equivalent full load hours)

17,231 kWh/year
 
13,424 kWh/year
19,849 kWh/year
Overall electricity consumption/year

20,037 kWh/year
 
23,205 kWh/year
35,637 kWh/year
Operating costs/year (cooling and humidification)
at an electricity price of €0,17/kWh
€3406,29/year
€3944,85/year
€6058,29/year
 

The operating costs are based on 24-hour full load operation 365 days of the year. Partial load mode is considered equivalent to 6,362 full load hours. The actual operating costs may differ considerably depending on the required capacity. A mean power consumption must be used for calculating electricity consumption per year. This differs from the nominal power consumption in that it takes account of the outside temperature profile over the year, as when calculating an annual energy rate.
Maximum operational reliability
With a room climate that is stable throughout the year (temperature and humidity), your technical equipment always has precisely the right climate and the risk of failure is kept to a minimum. For the probability of failure is already 30 % higher at temperatures of 27 °C and above. This increases to as much as 50 % at 35 °C.
Better energy efficiency thanks to EC technology
    High motor efficiency of up to 92 %, reaping obvious savings in running costs
    Quiet running, long life, maintenance-free
    Adjustment to the given conditions with pinpoint precision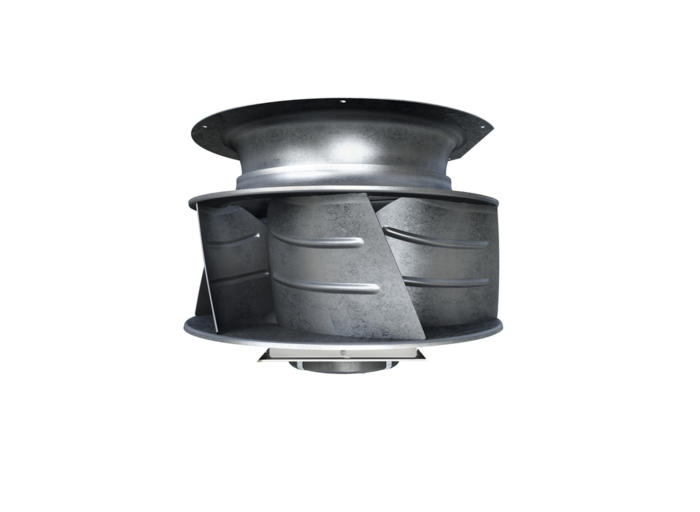 Back to Selection